Isla Tortuga, or Turtle Island, has been described by Lonely Planet as "the most beautiful island in Costa Rica" and with its pristine white sand beaches, crystal blue waters and gently swaying coconut palms, Tortuga is a picture perfect example of tropical paradise.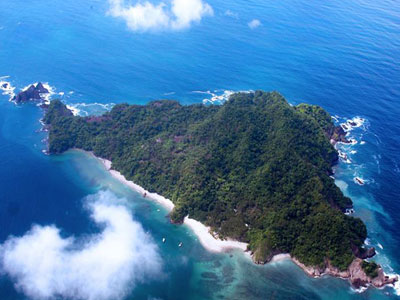 The island is uninhabited by humans but many species of birds make their home in its lush green forests and vast numbers of fish – including the harmless whale shark – dwell in the surrounding coral reefs. The reefs and the warm clear waters make delightful snorkeling and diving opportunities.
Tortuga makes a great excursion destination and can be reached on a one day cruise from Jaco or San Jose, one of the most stylish and tranquil trips on offer from Costa Rica For Less. The day begins at your hotel where you will be greeted by a bilingual guide and driven to the port of Puntarenas on an air-conditioned bus, stopping for a typical Costa Rican breakfast on the way.
Once at Puntarenas, a super catamaran, Manta Raya, spirits you across the crystal clear Gulf of Nicoya towards Tortuga Island which rises out of the sapphire waters in the shape of a turtle, before disembarking on the Eden-like island.
Once on the island, you are able to spend a full day relaxing on Tortuga's pristine white sands, in the clear blue ocean and under the tropical Costa Rica weather which is cooled by a gentle sea breeze.
Lunch is served on the beach on tables decked in white linen and under the shade of broad parasols. The award winning menu, which has been described as a "traveling feast" and featured in Gourmet Magazine, consists of a delicious ceviche appetizer served with a salad medley, followed by barbequed chicken marinated in a tropical sauce and accompanied by julienned vegetables and oven toasted plantains.
After a day on this blissful island you sail back to Puntarenas, enjoying the boat's two deck pools, fresh water showers and deck salon before returning to your comfortable hotel.
To celebrate the launch of Costa Rica For Less, guests who book onto the Tortuga Island cruise will receive a complimentary cocktail aboard the Manta Raya!
For a taste of Tortuga, you can now try the Manta Raya's famous ceviche recipe at home. Ceviche is a fish dish famously from Peru but popular all over Latin America and which is usually served as an appetizer or a first course. The fish is not cooked conventionally using heat, but is cooked by a process of oxidization with the acids from lemon and lime juices.
CALYPSO'S CEVICHE
* 1 pound of day-fresh Dorado
* 1 ½ cups of chopped onion
* ½ cup chopped green bell pepper
* ½ cup chopped red bell pepper
* ½ cup chopped celery
* 1 handful cilantro chopped- stems removed
* ½ to 1 tsp salt
* 1 small clove garlic chopped fine
* 1 cup lemon juice
* 1 cup lime juice
* ½ cup orange juice
* Ginger ale
Preparation:
Cut the fish into bite size cubes, thumb nail size – try and cut all the same size
Cut the onion, bell pepper and celery into tiny pieces, trying to make them all the same size for better presentation- it is better to cut with a knife than use a food processor
Chop the cilantro and add to above
Mix all dry ingredients in bowl
In another bowl place the lemon and lime juice and orange juice.
Add salt – little by little and taste after each addition
Juices should taste tart but not bitter
If too bitter or too lemony add the ginger ale until you have a mixture that has a good lemony taste.
You may add more salt if needed.
After you have the juice tasting exactly right, pour over the fish (juices need to cover the fish) and let sit for at least 4 hours in the refrigerator without touching it or stirring. (Stirring or mixing fish after the juice has been added will break down the fish and make the juices cloudy)
Sources: Serves 10
By
Matt Barker
The Tortuga Island cruise is just one of many day excursions available from San Jose and Jaco. Many other exciting adventures and relaxing trips are available from our other Costa Rica and Latin America destinations! To book this outstanding day trip to paradise and to begin planning your Costa Rica vacation, please contact us at travel@costaricaforless.com.
---
PAST NEWSLETTERS: